August 3, 2021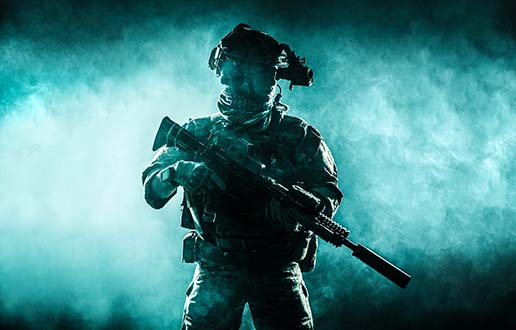 Before you enter the game at night, you would, of course, do well to play a couple of dozen daytime games. Because as exciting as the march at night looks, there are too many specifics involved. And, of course, you can't forget about safety. At night, you can cause damage to your team members or other players. But if you're confident in your abilities, if you've already mastered daytime games, well, let's discuss nighttime tactics. This article will look at what is fascinating about airsoft at night and what you need to know about it. It reveals the tactics of using NVDs during the night phase of games, summarizing personal and team experiences.

What is airsoft
Airsoft has long been more than just a «game of war.» It is training. It is a sport. And even if instead of bullets used in a real firearm, rifle, or machine gun, plastic bullets are used here. But do not forget that the balls are made of a material that can not kill but can give a person a very unpleasant feeling when directly hit in the body. Airsoft is, first and foremost, a game of rules. You can't cheat here, and you can get expelled for breaking the rules at a minimum, and at a maximum, it can cause harm to people. So before you start playing, you should definitely learn all the rules of the game.

The game's main goal is to shoot the enemy and take him out of the game. Often players are divided into teams. Then the goal is to defeat the opposing team. All team members have their own uniforms, their own markings. It is important to prepare for the game - to join the team, buy uniforms, protection. Protection is the most important point in airsoft. First and foremost, a player must protect his eyes. These are goggles or a mask because the ball if hit in the uncovered eye, can make a person blind. Do not experiment - safety is paramount!
And then comes the excitement and pleasure of maneuvers, team play, and winning. Here you will feel the real adrenaline. Clear separation of roles in the team - you will give orders, carry them out, go on reconnaissance or engage in direct combat. It's like a computer shooter, in real-time only.

Types of night airsoft games
It is a misconception that it is easier to approach the enemy at night, to be unnoticed and hide. In practice, it turns out the opposite, as the night hearing of the players gradually becomes more acute and gives the location of the enemy can provide any careless movement. Many people use different night vision devices to simplify the orientation in the dark. In fact, it is the exact movement of fans of the night game put in the forefront. But if you decide to play at night, first determine what type of game belongs to and whether it will be appropriate for your equipment and your NVD's. After all, this is also possible.

So, roughly we can divide night games into two basic types: real and role-playing.
• The real type is when the game is based on historical events in the past or are happening now. You will be asked to play out a situation from history with possible nighttime wagering.
• The role-playing type is based on the plot of a book, movie, or TV series. Here you can find yourself in the universe of S.T.A.L.K.E.R., for example.

In both of the options of night maneuvers, you should think about which of the NVD will be relevant to you within the story's framework and the rules. After all, it will be extraordinary to find yourself at a game on the plot of World War I, armed with a night vision monocular or night vision binoculars of the fourth generation because they have not yet been invented at that time. And for real airsofters, matching the reality of even a virtual book is very important, no matter how it sounds.
Finding the right night vision device for a particular game is no easy task. And if you are serious about it and understand the need to use high quality and sophisticated equipment, such as night vision scope, the cost of a mistake can be too high.

Equipment for the night airsoft games
Airsoft guns are not legally classified as firearms but are referred to as "soft pneumatics. Soft airsoft guns, under federal law, are legal for all ages. But before you buy a game gun and turn in your game fee, check the laws in your particular state.
If the gun case is not transparent, sellers must make orange markings on the end of the barrel to clarify that it is not combat-ready.
You don't need to take a long-range drive at an airsoft night game since all weapons are equalized in the dark. Grenades that form a noise shield become indispensable. This will allow you to change your location and move closer to the enemy. Justified will be the use of a rubber knife - a suitable silent method of close attack.

Basic equipment for a night game is:
1. Weapons;
2. Weapon case;
3. Consumables;
4. Protective equipment;
5. Night vision imaging systems.

If with the first and second point everything is more or less clear, we have considered it above, what about the third, fourth and fifth?

• Protective glasses or mask is a necessary part of the game because the eyes are the only part of the body that can be damaged in the process.
• Consumables needed for the game include plastic ammo balls, a battery with a charger, or gas depending on the type of power to the weapon purchased. By default and unspoken rules of airsoft, the player will also need a small piece of red rag, as it is red color marking themselves fighters who were wounded in the game or were killed as well inside the game. At NVD, for airsoft, so-called night vision generation is a specific classification.
• Night vision sight, night vision goggles are important tactical equipment. But information about ion barriers, microchannel plates, gallium arsenide, and photocathodes is hardly useful for a player using NVDs. It is enough to know that the main element in a night vision device is Optical Magnification for the average consumer. To date, night vision manufacturers have developed 4 generations of NVDs, differing in the design of the Optical Magnification. For airsoft, devices of the 2nd or 3rd generation are enough. They can give a clear picture even in complete darkness.

Conclusion
Is it appropriate to use night vision devices in airsoft? How safe is their use for NVDs? In terms of hitting the ball in the eyepiece - the risk of breaking the lens with the ball is present, and it is very high. And the most unpleasant thing is that you can protect day optics with polycarbonate glass, but you won't see anything through the night optics. But the feeling that you can see them and do not see them is very refreshing! The more so that experienced players advise covering the expensive optics with a coarse metal mesh.
Passion for night airsoft raises the degree of stability, helps to become stronger mentally and physically, trains the senses, develops intuition, and teaches to navigate in the dark. These skills will help you not only on the battlefield but also in everyday life.